This time, E-bike tour with UK guests. I would like to share not only the tour but the amazing coincidence happening afterwards.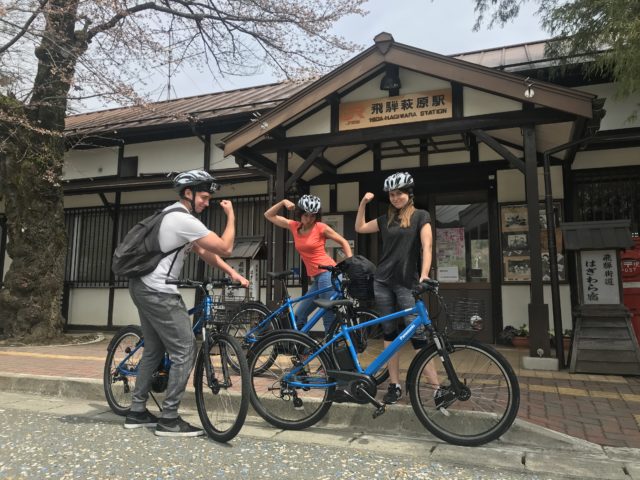 They are from Southampton but the big sister living in Japan as a TV caster booked our bike tour since her brother wants to see more rural area with his girlfriend.
They stayed at Takayama and took train for 40 minutes to join in the tour fortunately.
From the first sight at the station, I guessed they would be so friendly and humorous guys. Actually, that was true!
See it? As if they are not from UK! Maybe from US? haha.
After some instructions, we started the tour as usual!
We gently biked around the small historical town first and went up the hill heading for the most scenic village called Maze.
Same as other guests, they said totally no difficulty with the e-bikes even on a steep hill!
It was almost 1pm when arriving at the village so we took lunch first at the local slow food restaurant.
Good looking and taste, they really like it!
Every time I have a meal here, the mistress changes some menu, which makes me want to go again.
Full stomach, we need to have some exercise. We biked down to the super transparent river.
At the riverside, I shared the local story like how people coexist with the nature in the village.
The story is still connected to another stop at the fish farm.
We met a local grandmother and she gladly told us how they live in a mountain village with a lovely story feeding tiny kid fish! So deep cultural experience!
We took e-bikes again to get to the secret riverside beach that no tourists know.
It could not be better! Amazingly tranquil and scenic view at the river!
We brewed coffee and had some conversation here.
It was a great time but it will not last so long… Guys, wake up! We have to go back to the station!
After enjoying the downhill, they head back to Tokyo. The big sister would take them around as a tour guide. I guess they had a special time there too.
This is the end of story of tour but I would like to share the happy coincidence.
Please take a look at those pictures.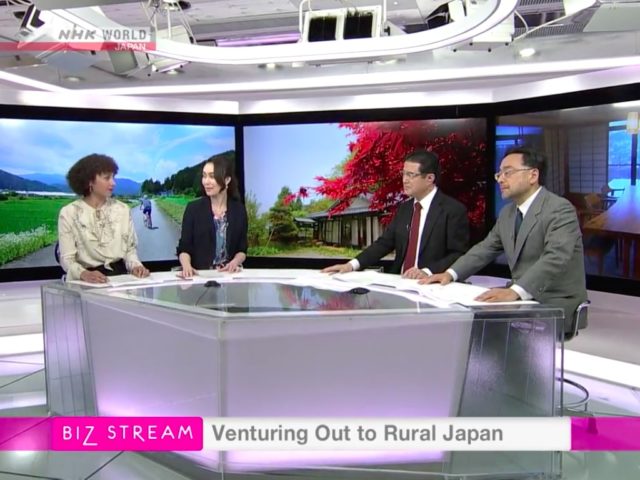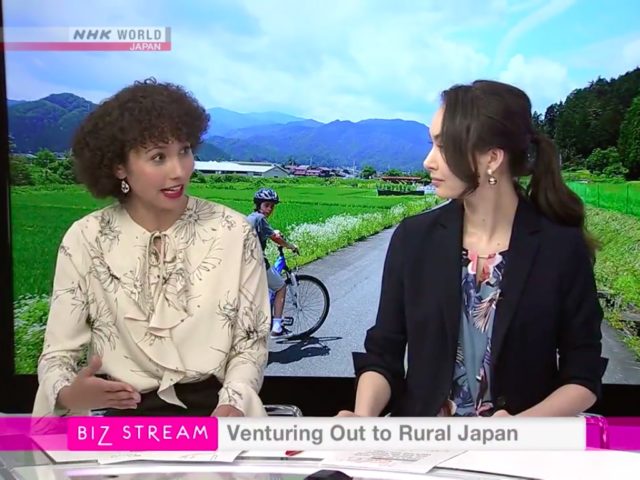 Wow! She is there! It is a super coincidence! How can you imagine you see a guest of your tour activity show on television later the same month?
She joined in the tour for sightseeing, of course not for news gathering. That is why it is a lucky coincidence!
This is a Japanese TV program named "Biz Stream" on NHK WORLD.
Broadcasted on Apr 21th, the theme was targeting repeat foreign travelers to Japan.
She is actually a caster of NHK WORLD and invited on the program by chance.
She happily told them about the experience with us! Actually, she also mentioned about the tour guide, haha.
If you are interested in the TV program, please check out this. They have a video on demand service. (She appears on the show from 23:47)
Biz Stream – Targeting Repeat Visitors to Japan (Available until May 5, 2018)
Alright then, I should wrap it up finally.
The tour itself, it was amazing to me since they are very friendly but the coincidence was too exciting! I will not forget this memory as a tour guide for the rest of my life.
I am deeply honored to bike around the village with you guys! Hope we will meet up again!
Please check below if you want to know more about our e-bike tour.