Today, I gonna share another memory with you. A customized e-bike tour with US family.
They are from San Francisco and it is the first time for sons to come to Japan.
That is why dad want them to see various parts of Japan, then picked Maze as the rural part.
They stayed at Maruhachi Ryokan for 2 nights and joined in the e-bike tour on the 2nd day.
Basically, our e-bike tour starts from the station but this time from the ryokan. It was the first trial tour actually.
It took 4.5 hours and what we did is like below.
Cycle around the rural village
Visit a small shrine with some explanation
Take natural water from the mountain
Visit a fish farm to see various kinds of stream fish
Go down to the riverside to introduce the lifestyle of village
Have lunch at the local slow food restaurant
Hear the shamisen (traditional Japanese guitar) played by the professional
Take a rest with outdoor coffee at the private beach
We tried the proper way to cross the shrine gate. It is interesting for them to know the different culture.
The unique lifestyle of a mountain village is also exciting for them. All connect each other; people, river, forest and mountain.
To our surprise, the owner of restaurant is a professional of Japanese art. She plays the traditional Japanese stringed instrument very well.
She gladly showed the live performance and let them to play it!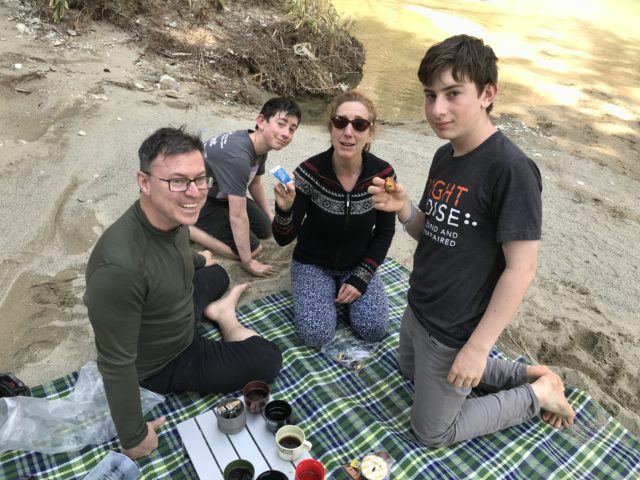 Finally, we got to the private riverside beach and took a rest with coffee.
It is a very luxurious and leisurely time to have fresh ground coffee while seeing the beautiful river.
Boys actually do not care about cafe but they just play in the river, haha.
We had lots of conversation and everything we experienced during the tour would be the great memory.
So honored to bike around the village with you guys! Hope we will see again!
Please check it out to know more about our e-bike tour.